Evergreen the Rescue
For those of you that have been following us on Instagram – you have probably seen some photos and short stories about Evergreen, the newest four legged member of our family who we rescued from a shelter in Washington. Well I wanted to tell you more about our experience, how well she has settled into our home, and how powerful it has been to be a part of her rescue.
My fiancée and I live in Albany, Oregon and are two of the biggest dog people you could ever meet. For us, they are much more than "pets" – they are family members, friends, companions, and adventure buddies. Prior to living together in Albany – I lived in Salt Lake City and she lived in Lebanon and we both worked full time jobs away from the home. As much as we wanted to have a dog in our lives then, we just did not have the time to properly care for one.
When we had the opportunity to move into a home together in Albany…and as I started to work from the home… we knew the time was near. A few months after settling in we started talking about it… more and more… and more. Until it was a daily discussion full of internet searches, talks about different types of breeds, and what was important to us in our future dog. My fiancée really wanted it to be a rescue dog and I couldn't be more thankful that she felt so strongly about it. There is something so powerful and meaningful from rescuing an animal and giving it a second chance – and unfortunately many do not get that second chance.
We started searching and visiting our local shelters to try and find the newest member of our family. We knew that we wanted a young, family friendly, and active dog to join us. We did not have much success locally and were surprised to hear that most of our local shelters were running very low on dogs at the time because so many had been adopted (which is an amazing thing!). When we first stumbled upon a photo of Evergreen online… Our hearts melted. We could see so much love and personality behind her beautiful eyes (below is the actual first image we saw of her!). We knew right then that we wanted to meet her and learn more about her.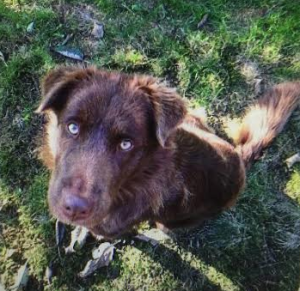 We were thrilled to learn that she was gentle and loving and also did well with other animals and people. She was a stray that had been at the shelter for nearly six weeks and was in need of a forever home. We knew right then that we would drive around the world as long as we could meet her. We promptly set up a plan to head north to Washington, as she was nearly 250 miles away from us.
The weather was awful the day we drove up. Raining, pouring, windy, and wet – but we sure didn't care. We loaded up the car at the crack of dawn and headed out. We got to the shelter before the dogs had arrived for the day and I remember how anxious and excited I was to meet her. I was really nervous. When the dogs arrived they were put into outdoor cages in a covered area and we walked down to greet her. We knew exactly which one was our girl. Seeing her for the first time made my eyes well up with tears. She leaned her entire body into our hands as we pet her and she looked at us with so much love behind her eyes. We took her for a walk in the pouring rain – which was not the easiest thing in the world – but we both knew she was heading back home with us.
The way home she was really excited but also well behaved – as though she knew we were her new people and she wanted to start off on the right foot. We went directly to a family Christmas party and were worried it may be overwhelming… but she loved every second of it. She wanted to meet everyone, be a part of everything, and she of course had quite a few presents waiting for her 🙂 She even made best friends with our five year old niece – who was so upset that we were leaving with her that she cried. (pictured below with a smile on her face).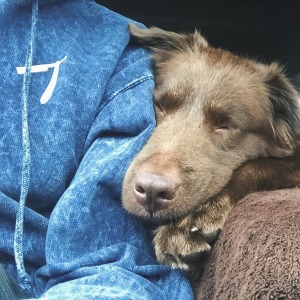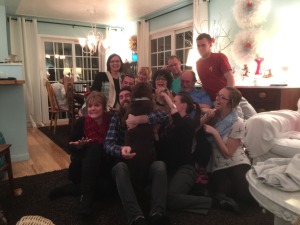 A month later… She is such a big part of our family. We honestly couldn't imagine life without her. She has grown so much, overcome so much, and taught us so much in the process. She is so full of love for everything around her. She is also very smart and has started obedience training! She also likes to sleep upside down, wrestle, and give us big licks on the face in the morning. She has such a wonderful personality and we are so lucky to have found her. She is even laying at my feet as I type this out.
The power of rescuing an animal, a true underdog, is incredible. It will change the animals life forever – and it will also change yours. Seeing her transformation, watching her grow and develop into herself, knowing that she is so comfortable in her home that she can sleep upside down while laying halfway on her dog bed and halfway on her toy alligator… is incredible. She is bringing so much joy to our lives and we are learning more about ourselves from it.
Underdogs are not just animals – but they are people as well. I know that sometimes we may feel as though we are locked in cages. That people have given up on us, written us off, or do not expect us to succeed… But take it from Evergreen… Success is often just around the corner. Stay strong in your direction and your dreams. Thank you everyone for your warm support and well wishes. 🙂
All this playing is tough 🙂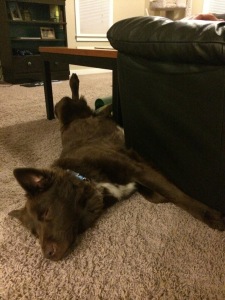 First trip to the Oregon coast!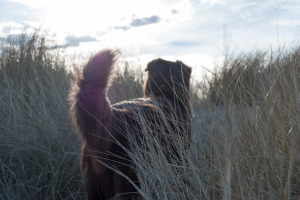 Getting cozy after a bath 🙂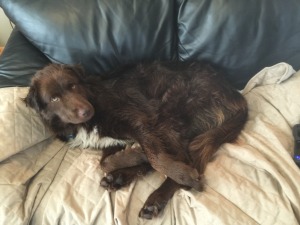 Life is good!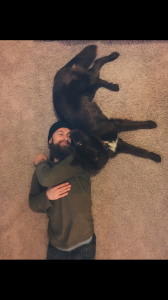 I'm getting better on my leash!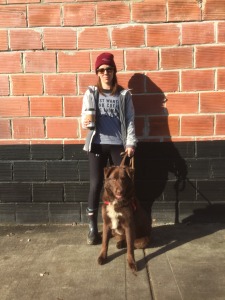 I love you.